Vehicle Identification Number (VIN)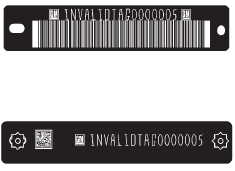 This legal identifier is in the front corner of the instrument panel, on the left side of the vehicle. It can be seen through the windshield from outside. The VIN also appears on the Vehicle Certification and Service Parts labels and certificates of title and registration.
Engine Identification
The eighth character in the VIN is the engine code. This code identifies the vehicle's engine, specifications, and replacement parts. See "Engine Specifications" under Capacities and Specifications for the vehicle's engine code.
See also:
AM-FM Radio
Control Buttons The buttons used to control the radio are: RADIO/BAND: Press to turn the radio on and choose between AM, FM, and XM™, if equipped. (Menu/Select): Turn to search for stations a ...
Ignition Positions (Keyless Access)
Ignition Positions (Keyless Access) The vehicle has an electronic keyless ignition with pushbutton start. Pressing the button cycles it through three modes, ACC/ACCESSORY, ON/RUN/START, an ...
Playing a CD or MP3 CD (Radio with CD)
Press the CD button if there is a disc in the player; it begins playing. Information about the disc and current track is shown on the display depending on the data stored. Selecting a CD Track Us ...