Buick LaCrosse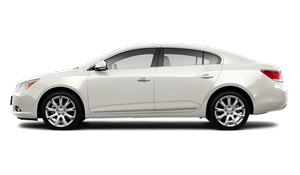 LaCrosse is a 4-door, 5-passenger luxury sedan.
See also:
Brake Pedal Travel
See your dealer if the brake pedal does not return to normal height, or if there is a rapid increase in pedal travel. This could be a sign that brake service might be required. ...
Engine Oil Additives/Engine Oil Flushes
Do not add anything to the oil. The recommended oils with the dexos specification and displaying the dexos certification mark are all that is needed for good performance and engine protection. En ...
Off-Road Recovery
The vehicle's right wheels can drop off the edge of a road onto the shoulder while driving. If the level of the shoulder is only slightly below the pavement, recovery should be fairly easy. E ...