Hood Release
To open the hood: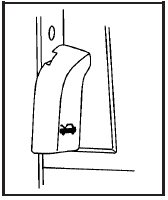 1. Pull the hood release handle inside the vehicle. It is located next to the parking brake pedal near the floor.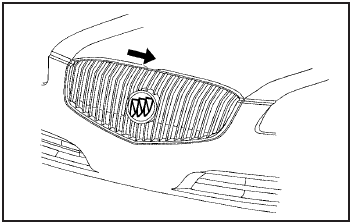 2. Then go to the front of the vehicle and pull the secondary hood release to the right. The hood latch is located under the hood, near the center, at the front edge of the grille.
3. Hold the latch to the right as you lift up on the hood.
Before closing the hood, be sure all the filler caps are on properly. Then just pull the hood down and close it firmly.
See also:
Tire Messages
TIRE PRESSURE LOW ADD AIR TO TIRE On vehicles with the Tire Pressure Monitor System (TPMS), this message displays when the pressure in one or more of the vehicle's tires is low. The low tire pressur ...
Brake Pedal Travel
See your dealer/retailer if the brake pedal does not return to normal height, or if there is a rapid increase in pedal travel. This could be a sign that brake service might be required. ...
Leaving the Vehicle with the Engine Running
WARNING It can be dangerous to leave the vehicle with the engine running. The vehicle could move suddenly if the shift lever is not fully in P (Park) with the parking brake firmly set. And, if ...