Taillamps, Turn Signal, Stoplamps and Sidemarker Lamps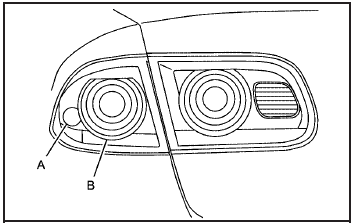 A. Sidemarker Lamp
B. Stoplamp/Taillamp/Turn Signal Lamp
To replace one of these bulbs:
1. Open the trunk. See Trunk.
2. Remove the convenience net.
3. Remove the plastic wing nuts retaining the trunk trim.
4. Pull back the trunk trim.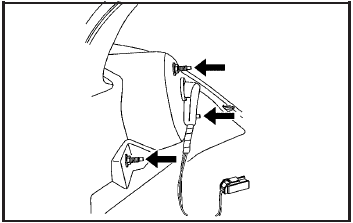 5. Remove the three hex nuts holding the taillamp assembly in place.
6. Pull the taillamp assembly straight out.
7. Turn the bulb socket counterclockwise and pull it straight out to remove it.
8. Pull the old bulb straight out of the socket.
9. Push the new bulb straight in until it clicks.
10. Push the bulb socket in and turn it clockwise to secure it in the taillamp assembly.
11. Push the taillamp assembly straight in to its original location.
When reinstalling the taillamp assembly, make sure the plastic pin on the taillamp assembly lines up and is inserted correctly into the opening of the vehicle.
12. Reinstall the three hex nuts holding the taillamp assembly in place.
13. Put the trunk trim back into place.
14. Reinstall the plastic wing nuts that retain the trunk trim.
15. Put the convenience net back in its original location.
See also:
All-Wheel Drive (AWD) System
Your vehicle may have this feature. There is no lever or switch to engage or disengage the front axle. It is fully automatic and adjusts as needed for road conditions. Your vehicle has an active t ...
End a Call
Push . System responds: "Call ended." ...
Maintenance Replacement Parts
Replacement parts identified below by name, part number, or specification can be obtained from your dealer/retailer. Maintenance Replacement Parts ...