Battery
Refer to the replacement number on the original battery label when a new battery is needed.
DANGER:
Battery posts, terminals, and related accessories contain lead and lead compounds, chemicals known to the State of California to cause cancer and reproductive harm. Wash hands after handling.
The battery is under the rear seat cushion. To access the battery, see "Removing the Rear Seat Cushion" under Rear Underseat Fuse Block.
Access to the battery is not necessary to jump start the vehicle. See Jump Starting.
WARNING:
A battery that is not properly vented can let sulfuric acid fumes into the area under the rear seat cushion. These fumes can damage the rear seat safety belt systems. You might not be able to see this damage and the safety belts might not provide the protection needed in a crash. If a replacement battery is ever needed, it must be vented in the same manner as the original battery.
Always make sure that the vent hose is properly reattached before reinstalling the seat cushion.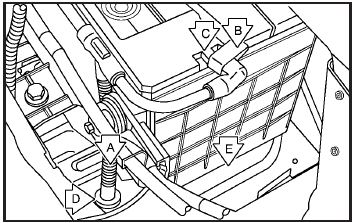 To be sure the vent hose (A) is properly attached, the vent hose connectors (B) must be securely reattached to the vent outlets (C) on each side of the battery and the vent assembly grommet (D) must be secured to the floor pan (E).
Vehicle Storage
WARNING:
Batteries have acid that can burn you and gas that can explode. You can be badly hurt if you are not careful. See Jump Starting for tips on working around a battery without getting hurt.
Infrequent Usage: Remove the black, negative (−) cable from the battery to keep the battery from running down.
Extended Storage: Remove the black, negative (−) cable from the battery or use a battery trickle charger.
See Theft-Deterrent Feature for the audio system.
See also:
Park Tilt Mirrors
If the vehicle is equipped with memory mirrors, there is an option to have the mirrors tilt down, when in R (Reverse), to more easily see the ground near the vehicle. When the vehicle is shif ...
Exterior Lamps Off Reminder
A warning chime sounds if the driver door is opened while the ignition is off and the exterior lamps are on. ...
Repair Facility
GM also recommends that you choose a collision repair facility that meets your needs before you ever need collision repairs. Your dealer may have a collision repair center with GM-trained technici ...