Airbag Readiness Light
The system checks the airbag's electrical system for possible malfunctions. If the light stays on it indicates there is an electrical problem. The system check includes the airbag sensor, the pretensioners, the airbag modules, the wiring and the crash sensing and diagnostic module. For more information on the airbag system, see Airbag System.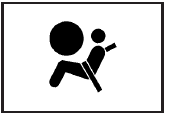 The airbag readiness light flashes for a few seconds when the engine is started. If the light does not come on then, have it fixed immediately.
WARNING:
If the airbag readiness light stays on after the vehicle is started or comes on while driving, it means the airbag system might not be working properly. The airbags in the vehicle might not inflate in a crash, or they could even inflate without a crash. To help avoid injury, have the vehicle serviced right away.
If there is a problem with the airbag system, an airbag Driver Information Center (DIC) message can also come on. See DIC Warnings and Messages for more information.
See also:
Wheel Replacement
Replace any wheel that is bent, cracked, or badly rusted or corroded. If wheel nuts keep coming loose, the wheel, wheel bolts, and wheel nuts should be replaced. If the wheel leaks air, replace it ...
When the System Does Not Seem To Work Properly
The LDW symbol will not appear when the system is having difficulty seeing the lines on the road or if the view of the camera on the windshield is blocked with mud, dirt, snow, ice, or slush, if ...
Securing a Child Restraint in the Right Front Seat Position
This vehicle has airbags. A rear seat is a safer place to secure a forward-facing child restraint. See Where to Put the Restraint. In addition, the vehicle has a passenger sensing system which ...