Rear Seat Pass-Through Door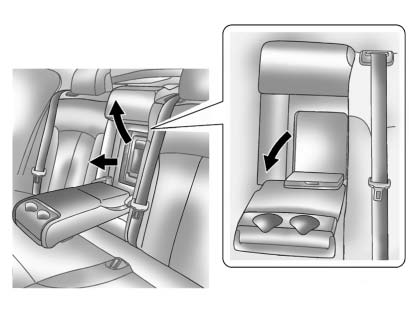 The vehicle may have a door in the rear seat that provides access to the trunk.
Lower the rear seat armrest to access the pass-through door. Pull the release handle to open the door.
To close, push and latch the door.
The vehicle may have a lock knob on the pass-through door. Turn the lock knob from the trunk side of the door to lock or unlock the door.
See also:
Traction Off Light
This light comes on briefly while starting the engine. If it does not, have the vehicle serviced by your dealer. If the system is working normally, the indicator light then goes off. The traction ...
Display Settings
Press the Config button on the Home Page or the CONFIG button on the faceplate, then select Display Settings from the list. The following options may display: Dimming Mode: Press to change the scre ...
Driving on Wet Roads
Rain and wet roads can reduce vehicle traction and affect your ability to stop and accelerate. Always drive slower in these types of driving conditions and avoid driving through large puddles and dee ...