Outside Power Mirrors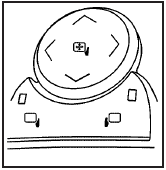 Controls for the outside power mirrors are located on the driver's door armrest.
To adjust the mirror:
1. Press the left or right side of the selector switch located beneath the control pad to choose the driver or passenger side mirror.
2. Press one of the four arrows located on the control pad to move the mirror in the desired direction.
3. Adjust each outside mirror so that a little of the vehicle and the area behind it can be seen.
Manually fold the mirrors inward to prevent damage when going through an automatic car wash. To fold, push the mirror toward the vehicle. Push the mirror outward, to return to its original position.
See also:
Interior Glass
To clean, use a terry cloth fabric dampened with water. Wipe droplets left behind with a clean dry cloth. Commercial glass cleaners may be used, if necessary, after cleaning the interior glas ...
Instrument Panel, Vinyl, and OtherPlastic Surfaces
A soft cloth dampened with water may be used to remove dust. If a more thorough cleaning is necessary, a clean soft cloth dampened with a mild soap solution can be used to gently remove dust and d ...
How to Add Coolant to the Coolant Surge Tank
Notice: This vehicle has a specific coolant fill procedure. Failure to follow this procedure could cause the engine to overheat and be severely damaged. If no problem is found, check to see if cool ...