Windows
WARNING:
Leaving children, helpless adults, or pets in a vehicle with the windows closed is dangerous.
They can be overcome by the extreme heat and suffer permanent injuries or even death from heat stroke. Never leave a child, a helpless adult, or a pet alone in a vehicle, especially with the windows closed in warm or hot weather.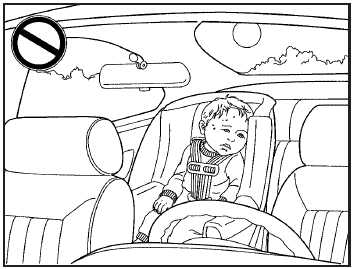 See also:
Manual Operation
(Off): Turns the climate control system off. Outside air still enters the vehicle and is directed to the floor. The airflow direction and temperature can be adjusted. If the temperature is adju ...
Headlamp Aiming
The headlamp aiming system has been preset at the factory. If the vehicle is damaged in an accident, the aim of the headlamps may be affected and adjustment may be necessary. It is recommend ...
Auto Defog
This will allow you to turn the auto defog on or off. Only vehicles with the dual zone climate control will have this option. Press SELECT when Auto Defog is highlighted to open the menu. Tur ...