Shoulder Belt Height Adjuster
The vehicle has a shoulder belt height adjuster for the driver and right front passenger seating positions.
Adjust the height so that the shoulder portion of the belt is centered on the shoulder. The belt should be away from the face and neck, but not falling off the shoulder.
Improper shoulder belt height adjustment could reduce the effectiveness of the safety belt in a crash.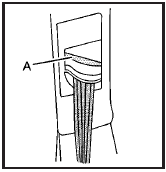 Press the release button (A) and move the height adjuster to the desired position. The adjuster can be moved up by pushing up on the shoulder belt guide.
After the adjuster is set to the desired position, try to move it down without pressing the release button to make sure it has locked into position.
See also:
Tire Pressure Monitor Operation
This vehicle may have a Tire Pressure Monitor System (TPMS). The TPMS is designed to warn the driver when a low tire pressure condition exists. TPMS sensors are mounted onto each tire and whe ...
Cold Temperature Operation
If in an area of extreme cold, where the temperature falls below −20°F (−29°C), use either an SAE 5W-30 synthetic oil or an SAE 0W-30 engine oil. Both provide easier cold starting ...
Footnotes — Maintenance Schedule Additional Required Services — Normal
a) Check all fuel and vapor lines and hoses for proper hook-up, routing, and condition. Check that the purge valve, if the vehicle has one, works properly. Replace as needed. b) Or every four yea ...