Electric Parking Brake Light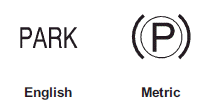 The parking brake status light comes on when the brake is applied. If the light continues flashing after the parking brake is released, or while driving, there is a problem with the Electric Parking Brake system. A SERVICE PARKING BRAKE message may also display on the Driver Information Center (DIC). See Brake System Messages for more information.
If the light does not come on, or remains flashing, see your dealer

The brake warning light should come on briefly when the ignition is placed in ON/RUN. If it does not come on, have the vehicle serviced by your dealer.
If this light comes on, there is a problem with a system on the vehicle that is causing the parking brake system to work at a reduced level. The vehicle can still be driven, but should be taken to a dealer as soon as possible. See Parking Brake for more information.
See also:
Trailer Brakes
Does the trailer have its own brakes? Be sure to read and follow the instructions for the trailer brakes so they are installed, adjusted, and maintained properly. Because the vehicle has anti ...
Your Vehicle and the Environment
Proper vehicle maintenance not only helps to keep your vehicle in good working condition, but also helps the environment. All recommended maintenance is important. Improper vehicle maintenance can ...
Checking the Restraint Systems
Now and then, make sure the safety belt reminder light and all your belts, buckles, latch plates, retractors and anchorages are working properly. Look for any other loose or damaged safety belt ...