Head Restraint Removal and Reinstallation
The rear outboard head restraints can be removed if they interfere with the proper installation of the child restraint.
To remove the head restraint:
1. Partially fold the seatback forward. See Rear Seats for additional information.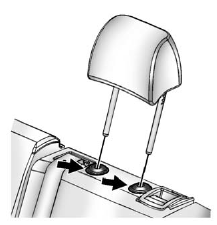 2. Press both buttons on the head restraint posts at the same time, and pull up on the head restraint.
3. Store the head restraint in the trunk of the vehicle.
4. When the child restraint is removed, reinstall the head restraint before the seating position is used.

WARNING
With head restraints that are not installed and adjusted properly, there is a greater chance that occupants will suffer a neck/ spinal injury in a crash. Do not drive until the head restraints for all occupants are installed and adjusted properly.
To reinstall the head restraint: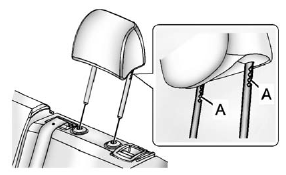 1. Insert the head restraint posts into the holes in the top of the seatback. The notches (A) on the posts must face the driver side of the vehicle.
2. Push the head restraint down. If necessary, press the height adjustment release button to further lower the head restraint. See Head Restraints .
3. Try to move the head restraint to make sure that it is locked in place.
See also:
Radio Frequency Identification (RFID)
RFID technology is used in some vehicles for functions such as tire pressure monitoring and ignition system security, as well as in connection with conveniences such as key fobs for remote door lo ...
Windshield Washer
(Windshield Washer): To spray washer fluid on the windshield, press the windshield washer paddle. The wipers will clear the window and then either stop or return to your preset speed. CAUTION: ...
Ejecting a Disc (DVD Player with Sunroof)
Press and hold the stop/eject button for more than two seconds on the DVD player faceplate to eject the disc. There is not an eject button on the remote control. If a disc is ejected from the pl ...