Footnotes — Maintenance Schedule Additional Required Services — Normal
a) Or every two years, whichever comes first. More frequent replacement may be needed if the vehicle is driven in areas with heavy traffic, areas with poor air quality, or areas with high dust levels.
Replacement may also be needed if there is a reduction in air flow, excessive window fogging, or odors.
b) Check all fuel and vapor lines and hoses for proper hook-up, routing, and condition. Check that the purge valve, if the vehicle has one, works properly. Replace as needed.
c) Or every four years, whichever comes first.
d) Do not directly power wash the transfer case output seals. High pressure water can overcome the seals and contaminate the transfer case fluid. Contaminated fluid will decrease the life of the transfer case and should be replaced.
e) Or every five years, whichever comes first. See Cooling System.
f) Or every 10 years, whichever comes first. Inspect for fraying, excessive cracking, or damage; replace, if needed.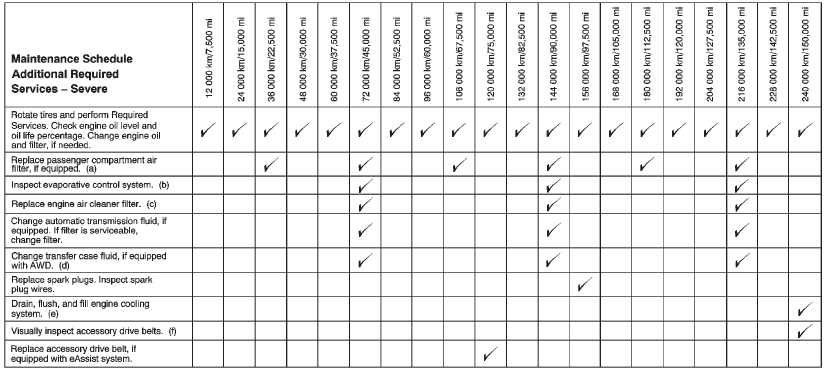 See also:
Winter Driving
Here are some tips for winter driving: • Have your vehicle in good shape for winter. • You may want to put winter emergency supplies in your vehicle. Include an ice scraper, a small brush ...
Loss of Control
Let us review what driving experts say about what happens when the three control systems—brakes, steering, and acceleration—do not have enough friction where the tires meet the road to do what the ...
Questions and Answers About Safety Belts
Q: Will I be trapped in the vehicle after a crash if I am wearing a safety belt? A: You could be — whether you are wearing a safety belt or not. But your chance of being conscious during and ...