Video Screens
The video screens are located in the back of the driver and front passenger seats.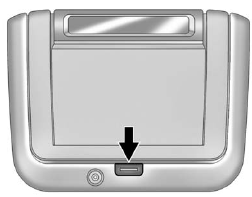 To use the video screen:
1. Push the release button located on the seatback console.
2. Move the screen to the desired viewing position.
Push the video screen down into its locked position when it is not in use.
The screen turns off automatically.
Only the left RSE seatback console contains the infrared transmitters for the wireless headphones. They may be visible as eight illuminated LEDs.
These LEDs are not on the right video screen. Both seatback consoles contain an infrared receiver for the remote control. They are located at the top of each console.
Notice:
Avoid directly touching the video screen, as damage may occur. See "Cleaning the Video Screens" later in this section for more information.
See also:
Selecting an XM Channel
XM channels can be selected by usings or , the TUNE/ MENU knob, or the TUNE/MENU system. Selecting a Channel Using or Press and release or to go to the previous or next channel. P ...
Erasing Universal Home Remote Buttons
The programmed buttons should be erased when the vehicle is sold or the lease ends. To erase either Rolling Code or Fixed Code on the Universal Home Remote device: 1. Press and hold the two outs ...
Programming Universal Home Remote — Fixed Code
For questions or help programming the Universal Home Remote System, call 1-866-572-2728 or go to learcar2u.com. Most garage door openers sold before 1996 are Fixed Code units. Programming a ga ...