Brake System Warning Light
The vehicle brake system consists of two hydraulic circuits. If one circuit is not working, the remaining circuit can still work to stop the vehicle. For normal braking performance, both circuits need to be working.
If the warning light comes on, there is a brake problem. Have your brake system inspected right away.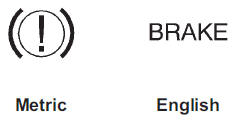 If the vehicle has antilock brakes, this light should come on when the vehicle is placed in START. If it does not, have the vehicle serviced by your dealer.
If the light comes on while driving, pull off the road and stop carefully.
The pedal may be harder to push or it can go closer to the floor. It may take longer to stop. Try turning off and restarting the vehicle one or two times. If the light is still on, have the vehicle towed for service. See Antilock Brake System (ABS) Warning Light and Towing the Vehicle.
WARNING!
The brake system might not be working properly if the brake system warning light is on.
Driving with the brake system warning light on can lead to a crash. If the light is still on after the vehicle has been pulled off the road and carefully stopped, have the vehicle towed for service.
See also:
Public Transportation or Fuel Reimbursement
If the vehicle requires overnight warranty repairs, and public transportation is used instead of your dealer's shuttle service, the expense must be supported by original receipts and can onl ...
Setting the Clock (Radio with CD)
To set the time: 1. Press the CONFIG button and select Time Settings or press . 2. Select Set Time. 3. Turn the TUNE/MENU knob to adjust the highlighted number. 4. Press TUNE/MENU to select the n ...
Driving Through Flowing Water
CAUTION: Flowing or rushing water creates strong forces. If you try to drive through flowing water, as you might at a low water crossing, your vehicle can be carried away. As little as six inch ...