Brake System Warning Light
The vehicle brake system consists of two hydraulic circuits. If one circuit is not working, the remaining circuit can still work to stop the vehicle. For normal braking performance, both circuits need to be working.
If the warning light comes on, there is a brake problem. Have your brake system inspected right away.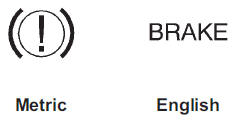 If the vehicle has antilock brakes, this light should come on when the vehicle is placed in START. If it does not, have the vehicle serviced by your dealer.
If the light comes on while driving, pull off the road and stop carefully.
The pedal may be harder to push or it can go closer to the floor. It may take longer to stop. Try turning off and restarting the vehicle one or two times. If the light is still on, have the vehicle towed for service. See Antilock Brake System (ABS) Warning Light and Towing the Vehicle.
WARNING!
The brake system might not be working properly if the brake system warning light is on.
Driving with the brake system warning light on can lead to a crash. If the light is still on after the vehicle has been pulled off the road and carefully stopped, have the vehicle towed for service.
See also:
Setting Preset PTYs (RDS Only)
These buttons have factory PTY presets. Up to 12 PTYs (six FM1 and six FM2), can be programmed on the six numbered pushbuttons, by performing the following steps: 1. Press BAND to select FM1 or ...
Playing an MP3, CD, and DVD
For vehicles equipped with the MyLink or IntelliLink infotainment system, see the separate MyLink/IntelliLink Features and Functions Guide for more information. ...
Chemical Paint Spotting
Airborne pollutants can fall upon and attack painted vehicle surfaces causing blotchy, ring-shaped discolorations, and small, irregular dark spots etched into the paint surface. ...