Brake Fluid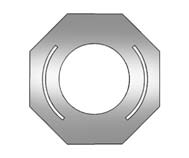 The brake master cylinder and, on manual transmission vehicles, the clutch hydraulic system use the same reservoir. See Engine Compartment Overview for the location of the reservoir. The reservoir is filled with with either DOT 3 or DOT 4 brake fluid as indicated on the reservoir cap.
There are only two reasons why the brake fluid level in the reservoir might go down:
The brake fluid level goes down because of normal brake lining wear. When new linings are installed, the fluid level goes back up.
A fluid leak in the brake/clutch hydraulic system can also cause a low fluid level. Have the brake/ clutch hydraulic system fixed, since a leak means that sooner or later the brakes will not work well.
Do not top off the brake/clutch fluid. Adding fluid does not correct a leak. If fluid is added when the linings are worn, there will be too much fluid when new brake linings are installed. Add or remove fluid, as necessary, only when work is done on the brake/clutch hydraulic system.

WARNING
If too much brake fluid is added, it can spill on the engine and burn, if the engine is hot enough. You or others could be burned, and the vehicle could be damaged. Add brake fluid only when work is done on the brake/clutch hydraulic system.
See also:
Empty Directory or Folder
If a root directory or a folder exists somewhere in the file structure that contains only folders/subfolders and no compressed files directly beneath them, the player advances to the next folder ...
Power Windows
Power Windows Press the switch to lower the window. Pull the switch up to raise it. The switches work when the ignition is in ON/RUN or ACC/ACCESSORY, or in Retained Accessory Power (RAP). ...
Recommended Fuel
Use regular unleaded gasoline with a posted octane rating of 87 or higher. If the octane rating is less than 87, an audible knocking noise, commonly referred to as spark knock, might be hear ...