Reclining Seatbacks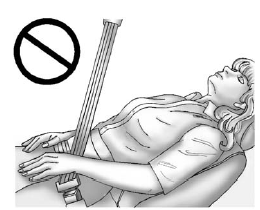 Reclining Seatbacks
WARNING!
Sitting in a reclined position when the vehicle is in motion can be dangerous. Even when buckled up, the safety belts cannot do their job when reclined like this.
The shoulder belt cannot do its job because it will not be against your body. Instead, it will be in front of you. In a crash, you could go into it, receiving neck or other injuries.
The lap belt cannot do its job either. In a crash, the belt could go up over your abdomen. The belt forces would be there, not at your pelvic bones. This could cause serious internal injuries.
For proper protection when the vehicle is in motion, have the seatback upright. Then sit well back in the seat and wear the safety belt properly.
See also:
How the System Works
URPA comes on automatically when the shift lever is moved into R (Reverse). A single tone sounds to indicate the system is working. URPA operates only at speeds less than 8 km/h (5 mph). An ...
How to Reset the Engine Oil LifeSystem
The Engine Oil Life System calculates when to change your engine oil and filter based on vehicle use. Anytime your oil is changed, reset the system so it can calculate when the next oil change is ...
When to Change Engine Oil
Your vehicle has a computer system that lets you know when to change the engine oil and filter. This is based on engine revolutions and engine temperature, and not on mileage. Based on driving c ...