Reclining Seatbacks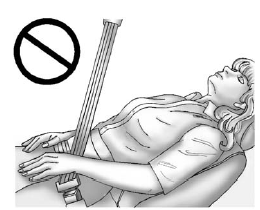 Reclining Seatbacks
WARNING!
Sitting in a reclined position when the vehicle is in motion can be dangerous. Even when buckled up, the safety belts cannot do their job when reclined like this.
The shoulder belt cannot do its job because it will not be against your body. Instead, it will be in front of you. In a crash, you could go into it, receiving neck or other injuries.
The lap belt cannot do its job either. In a crash, the belt could go up over your abdomen. The belt forces would be there, not at your pelvic bones. This could cause serious internal injuries.
For proper protection when the vehicle is in motion, have the seatback upright. Then sit well back in the seat and wear the safety belt properly.
See also:
Heated and Ventilated Seats
On vehicles with heated and ventilated seats, the controls are located on the front doors and the ignition must be on to use the feature. : Press to heat the seat and seatback. : Press to he ...
Express-Open/Express-Close
To express-open the sunroof from the closed or vent position, fully press and release the rear of the switch (B). The sunroof opens automatically. To stop the sunroof partway, press the swit ...
Following Distance
Stay at least twice as far behind the vehicle ahead as you would when driving the vehicle without a trailer. This can help to avoid situations that require heavy braking and sudden turns. ...