Manual Reclining Seatbacks
WARNING!
You can lose control of the vehicle if you try to adjust a manual driver seat while the vehicle is moving. The sudden movement could startle and confuse you, or make you push a pedal when you do not want to.
Adjust the driver seat only when the vehicle is not moving.
WARNING!
If either seatback is not locked, it could move forward in a sudden stop or crash. That could cause injury to the person sitting there.
Always push and pull on the seatbacks to be sure they are locked.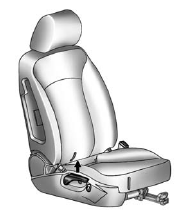 To recline the seatback:
1. Lift the recline lever.
2. Move the seatback to the desired position, and then release the lever to lock the seatback in place.
3. Push and pull on the seatback to make sure it is locked.
To return the seatback to the upright position:
1. Lift the lever fully without applying pressure to the seatback, and the seatback will return to the upright position.
2. Push and pull on the seatback to make sure it is locked.
See also:
How to Add Coolant to the Recovery Tank
WARNING: You can be burned if you spill coolant on hot engine parts. Coolant contains ethylene glycol and it will burn if the engine parts are hot enough. Do not spill coolant on a hot engine. ...
Loading the Vehicle
It is very important to know how much weight your vehicle can carry. Two labels on your vehicle show how much weight it may properly carry, the Tire and Loading Information label and the Vehic ...
Reading Lamps
The reading lamps are located in the headliner. or : Press the button near each lamp to turn it on or off. ...