Manual Reclining Seatbacks
WARNING!
You can lose control of the vehicle if you try to adjust a manual driver seat while the vehicle is moving. The sudden movement could startle and confuse you, or make you push a pedal when you do not want to.
Adjust the driver seat only when the vehicle is not moving.
WARNING!
If either seatback is not locked, it could move forward in a sudden stop or crash. That could cause injury to the person sitting there.
Always push and pull on the seatbacks to be sure they are locked.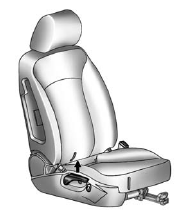 To recline the seatback:
1. Lift the recline lever.
2. Move the seatback to the desired position, and then release the lever to lock the seatback in place.
3. Push and pull on the seatback to make sure it is locked.
To return the seatback to the upright position:
1. Lift the lever fully without applying pressure to the seatback, and the seatback will return to the upright position.
2. Push and pull on the seatback to make sure it is locked.
See also:
Trunk Release
To open the trunk, press on the Remote Keyless Entry (RKE) transmitter or press the touchpad under the vehicle emblem. See Trunk for additional information. ...
Headlamps
The exterior lamps knob is located on your instrument panel to the left of the steering wheel. (Off): Turn the knob to this symbol and release it to turn off the Daytime Running Lamps (DRL ...
Arming the System
To arm the system, press on the RKE transmitter. The alarm automatically arms after about 30 seconds. The security light, located on the instrument panel, flashes. Press on the RKE transmi ...