Engine Coolant Temperature Gage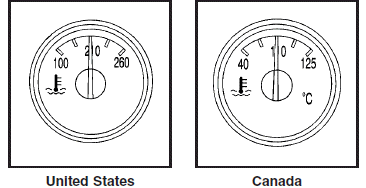 This gage shows the engine coolant temperature.
If the gage pointer moves into the red area, the engine coolant has overheated.
If you have been operating your vehicle under normal driving conditions, you should pull off the road, stop your vehicle and turn off the engine as soon as possible.
See also:
2009 Buick Enclave Review
The oh-so-beautiful 2009 Buick Enclave has inspired me to create a new television series, "Extreme Makeover: Car Edition." I'd love for some hunky host to relay my automotive sob-story t ...
Windshield Wiper BladeReplacement
Windshield wiper blades should be inspected for wear or cracking. Allowing the wiper blade arm to touch the windshield when no wiper blade is installed could damage the windshield. Any damage that ...
Alarm Warning
Press the customization button until ALARM WARNING: BOTH appears in the display. To select your preference for alarm warning, press the select button while ALARM WARNING: BOTH is displayed on the ...