Power Reclining Seatbacks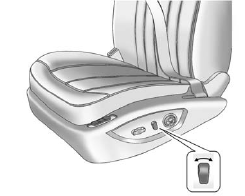 Power Reclining Seatbacks
To raise or recline the seatback, tilt the top of the vertical control forward or rearward. See Reclining Seatbacks.
See also:
Airbag Readiness Light
This light shows if there is an electrical problem. The system check includes the airbag sensor(s), passenger sensing system, the pretensioners, the airbag modules, the wiring, and the crash ...
Customer Assistance Offices (Mexico)
To contact the Customer Assistance Center (CAC), use the phone numbers listed in this section. Customer assistance is available Monday through Friday, 08:00 to 20:00 hours, and Saturdays from ...
Empty Directory or Folder
If a root directory or a folder exists somewhere in the file structure that contains only folders/subfolders and no compressed files directly beneath them, the player advances to the next folder ...