Engine Coolant Temperature Warning Light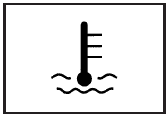 This light comes on briefly while starting the vehicle.
If it does not, have the vehicle serviced by the dealer/retailer. If the system is working normally the indicator light goes off.
Notice: Driving with the engine coolant temperature warning light on could cause the vehicle to overheat.
See Engine Overheating. The vehicle's engine could be damaged, and it might not be covered by the vehicle warranty. Never drive with the engine coolant temperature warning light on.
The engine coolant temperature warning light comes on when the engine has overheated.
If this happens pull over and turn off the engine as soon as possible. See Engine Overheating for more information.
See also:
Infants and Young Childrenw
Everyone in a vehicle needs protection! This includes infants and all other children. Neither the distance traveled nor the age and size of the traveler changes the need, for everyone, to use safe ...
Interior Glass
To clean, use a terry cloth fabric dampened with water. Wipe droplets left behind with a clean dry cloth. Commercial glass cleaners may be used, if necessary, after cleaning the interior glas ...
Electric Parking Brake Light
The parking brake status light comes on when the brake is applied. If the light continues flashing after the parking brake is released, or while driving, there is a problem with the Electric Parking ...