Engine Coolant Temperature Warning Light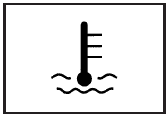 This light comes on briefly while starting the vehicle.
If it does not, have the vehicle serviced by the dealer/retailer. If the system is working normally the indicator light goes off.
Notice: Driving with the engine coolant temperature warning light on could cause the vehicle to overheat.
See Engine Overheating. The vehicle's engine could be damaged, and it might not be covered by the vehicle warranty. Never drive with the engine coolant temperature warning light on.
The engine coolant temperature warning light comes on when the engine has overheated.
If this happens pull over and turn off the engine as soon as possible. See Engine Overheating for more information.
See also:
Storing Name Tags
The system can store up to thirty phone numbers as name tags that are shared between the Bluetooth and OnStar systems. The system uses the following commands to store and retrieve phone numbers ...
Passenger Sensing System
The vehicle has a passenger sensing system for the front outboard passenger position. The passenger airbag status indicator will light on the instrument panel when the vehicle is started. United ...
Compass Calibration
Press and hold the on/off button to activate the compass calibration mode. CAL will be displayed in the compass window on the mirror. The compass can be calibrated by driving the vehicle in circ ...