Engine Coolant Temperature Warning Light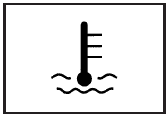 This light comes on briefly while starting the vehicle.
If it does not, have the vehicle serviced by the dealer/retailer. If the system is working normally the indicator light goes off.
Notice: Driving with the engine coolant temperature warning light on could cause the vehicle to overheat.
See Engine Overheating. The vehicle's engine could be damaged, and it might not be covered by the vehicle warranty. Never drive with the engine coolant temperature warning light on.
The engine coolant temperature warning light comes on when the engine has overheated.
If this happens pull over and turn off the engine as soon as possible. See Engine Overheating for more information.
See also:
Playing a CD
Insert a CD partway into the slot, label side up. The player pulls it in and the CD should begin playing. If the ignition or radio is turned off while a CD in the player it stays in the player. W ...
Ultrasonic Parking Assist
Ultrasonic Rear Parking Assist (URPA) uses sensors on the rear bumper to detect objects while parking the vehicle. It operates at speeds less than 8 km/h (5 mph). URPA uses audio beeps to provide dis ...
Brake Fluid
The brake master cylinder and, on manual transmission vehicles, the clutch hydraulic system use the same reservoir. See Engine Compartment Overview for the location of the reservoir. The reser ...