Fuel Gauge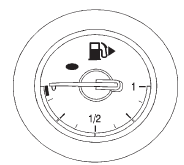 When the ignition is on, the fuel gauge shows about how much fuel is left in the tank.
An arrow on the fuel gauge indicates the side of the vehicle the fuel door is on.
The FUEL LEVEL LOW message appears in the Driver Information Center (DIC) and a single chime sounds. See Driver Information Center (DIC) for more information.
Here are four things that some owners ask about. None of these show a problem with the fuel gauge:
► At the service station, the fuel pump shuts off before the gauge reads full. ► It takes a little more or less fuel to fill up than the gauge indicated. For example, the gauge may have indicated the tank was half full, but it actually took a little more or less than half the tank's capacity to fill the tank. ► The gauge moves a little while turning a corner or speeding up. ► The gauge takes a few seconds to stabilize after the ignition is turned on, and will go back to empty when the ignition is turned off.
See also:
Headlamp Delay
Press the customization button until HEADLAMP DELAY: 10 SEC appears in the display. To select your preference for how long the headlamps will stay on when you turn off the vehicle, press the selec ...
Tachometer
The tachometer displays the engine speed in revolutions per minute (rpm). Notice: If the engine is operated with the tachometer in the shaded warning area, the vehicle could be damaged, and the dam ...
High Intensity Discharge (HID) Lighting
WARNING! The low beam high intensity discharge lighting system operates at a very high voltage. If you try to service any of the system components, you could be seriously injured. Have your ...