Airbag Readiness Light
The system checks the airbag's electrical system for possible malfunctions. If the light stays on it indicates there is an electrical problem. The system check includes the airbag sensor, the pretensioners, the airbag modules, the wiring and the crash sensing and diagnostic module. For more information on the airbag system, see Airbag System.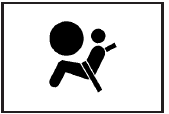 The airbag readiness light flashes for a few seconds when the engine is started. If the light does not come on then, have it fixed immediately.
WARNING:
If the airbag readiness light stays on after the vehicle is started or comes on while driving, it means the airbag system might not be working properly. The airbags in the vehicle might not inflate in a crash, or they could even inflate without a crash. To help avoid injury, have the vehicle serviced right away.
If there is a problem with the airbag system, an airbag Driver Information Center (DIC) message can also come on. See DIC Warnings and Messages for more information.
See also:
Bluetooth
The Bluetooth system allows users with a Bluetooth-enabled cell phone to make and receive hands-free calls using the vehicle audio system, microphone, and controls. The Bluetooth-enabled cell phone m ...
Starting the Vehicle with a Low Transmitter Battery
If the transmitter battery is weak, the DIC may display NO REMOTE DETECTED when you try to start the vehicle. The REPLACE BATTERY IN REMOTE KEY message may also be displayed at this time. To star ...
Backglass Wiper Blade Replacement
1. Lift the wiper blade assembly up and out of the park rest position. 2. Pull the wiper blade assembly away from the backglass. The backglass wiper blade will not lock in a vertical position, s ...