Airbag Readiness Light
The system checks the airbag's electrical system for possible malfunctions. If the light stays on it indicates there is an electrical problem. The system check includes the airbag sensor, the pretensioners, the airbag modules, the wiring and the crash sensing and diagnostic module. For more information on the airbag system, see Airbag System.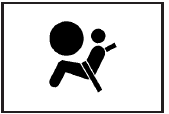 The airbag readiness light flashes for a few seconds when the engine is started. If the light does not come on then, have it fixed immediately.
WARNING:
If the airbag readiness light stays on after the vehicle is started or comes on while driving, it means the airbag system might not be working properly. The airbags in the vehicle might not inflate in a crash, or they could even inflate without a crash. To help avoid injury, have the vehicle serviced right away.
If there is a problem with the airbag system, an airbag Driver Information Center (DIC) message can also come on. See DIC Warnings and Messages for more information.
See also:
Interior Care
To prevent dirt particle abrasions, regularly clean the vehicle's interior. Immediately remove any soils. Note that newspapers or dark garments that can transfer color to home furnishings can ...
Remote Control
To use the remote control, aim it at the transmitter window below the video screen and press the desired button. Direct sunlight or very bright light may affect the ability of the RSE system to re ...
Interior Lighting
Dome Lamps The interior lamps control located in the overhead console controls both the front and rear interior lamps. : Turns the lamps off. : Turns the lamps on when any door is opened. : Keeps ...