Safety Belt Use During Pregnancy
Safety belts work for everyone, including pregnant women. Like all occupants, they are more likely to be seriously injured if they do not wear safety belts.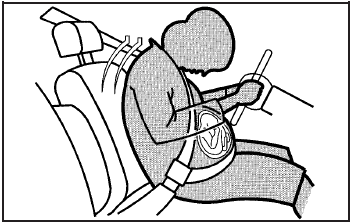 A pregnant woman should wear a lap-shoulder belt, and the lap portion should be worn as low as possible, below the rounding, throughout the pregnancy.
The best way to protect the fetus is to protect the mother. When a safety belt is worn properly, it is more likely that the fetus will not be hurt in a crash. For pregnant women, as for anyone, the key to making safety belts effective is wearing them properly.
See also:
Automatic Climate Control System
For vehicles with this system, it controls the heating, cooling, and ventilation. A. Power B. Temperature Control C. Fan Control D. Air Delivery Mode Control E. Recirculation F. AUTO (Automa ...
When It Is Time for New Tires
Factors such as maintenance, temperatures, driving speeds, vehicle loading, and road conditions affect the wear rate of the tires. Treadwear indicators are one way to tell when it is time for new t ...
Charging System Light
The charging system light comes on briefly when the ignition is turned on, but the engine is not running, as a check to show the light is working. The light turns off when the engine is started. If ...