Weight of the Trailer Tongue
The tongue load (A) of any trailer is an important weight to measure because it affects the total gross weight of the vehicle. The Gross Vehicle Weight (GVW) includes the curb weight of the vehicle, any cargo carried in it, and the people who will be riding in the vehicle.
If there are a lot of options, equipment, passengers or cargo in the vehicle, it will reduce the tongue weight the vehicle can carry, which will also reduce the trailer weight the vehicle can tow. If towing a trailer, the tongue load must be added to the GVW because the vehicle will be carrying that weight, too. See Vehicle Load Limits for more information.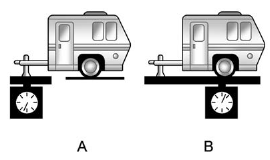 The trailer tongue (A) should weigh 10-15 percent of the total loaded trailer weight (B).
After loading the trailer, weigh the trailer and then the tongue, separately, to see if the weights are proper. If they are not, adjustments might be made by moving some items around in the trailer.
See also:
Power Outlets
The vehicle has 12-volt accessory power outlets which can be used to plug in electrical equipment, such as a cell phone or MP3 player. The power outlets are located: ► On the instrument pane ...
Diagnostics
OnStar Vehicle Diagnostics will perform a vehicle check every month. It will check the engine, transmission, antilock brakes, and major vehicle systems. It also checks the tire pressures, if the v ...
Vent
The sunroof has an express-vent open feature. From the closed position, press the rear of the sunroof switch (B) to the first detent to vent the sunroof. To close the sunroof, press the fron ...