Weight of the Trailer Tongue
The tongue load (A) of any trailer is an important weight to measure because it affects the total gross weight of the vehicle. The Gross Vehicle Weight (GVW) includes the curb weight of the vehicle, any cargo carried in it, and the people who will be riding in the vehicle.
If there are a lot of options, equipment, passengers or cargo in the vehicle, it will reduce the tongue weight the vehicle can carry, which will also reduce the trailer weight the vehicle can tow. If towing a trailer, the tongue load must be added to the GVW because the vehicle will be carrying that weight, too. See Vehicle Load Limits for more information.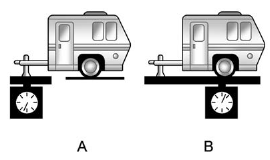 The trailer tongue (A) should weigh 10-15 percent of the total loaded trailer weight (B).
After loading the trailer, weigh the trailer and then the tongue, separately, to see if the weights are proper. If they are not, adjustments might be made by moving some items around in the trailer.
See also:
Vehicle Load Limits
It is very important to know how much weight the vehicle can carry. This weight is called the vehicle capacity weight and includes the weight of all occupants, cargo and all nonfactory-installed optio ...
What to Do with Used Oil
Used engine oil contains certain elements that can be unhealthy for your skin and could even cause cancer. Do not let used oil stay on your skin for very long. Clean your skin and nails with ...
Remote Start Heated and Ventilated Seats
During a remote start, the heated or ventilated seats, if equipped, can be turned on automatically. They are canceled when the ignition is turned on. Press the button to use the heated or ve ...