Weight of the Trailer Tongue
The tongue load (A) of any trailer is an important weight to measure because it affects the total gross weight of the vehicle. The Gross Vehicle Weight (GVW) includes the curb weight of the vehicle, any cargo carried in it, and the people who will be riding in the vehicle.
If there are a lot of options, equipment, passengers or cargo in the vehicle, it will reduce the tongue weight the vehicle can carry, which will also reduce the trailer weight the vehicle can tow. If towing a trailer, the tongue load must be added to the GVW because the vehicle will be carrying that weight, too. See Vehicle Load Limits for more information.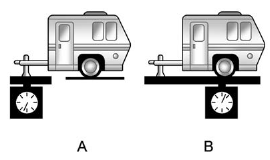 The trailer tongue (A) should weigh 10-15 percent of the total loaded trailer weight (B).
After loading the trailer, weigh the trailer and then the tongue, separately, to see if the weights are proper. If they are not, adjustments might be made by moving some items around in the trailer.
See also:
Before Driving
The RSE is for rear seat passengers only. The driver cannot safely view the video screen while driving. In severe or extreme weather conditions, the RSE system may not work until the temper ...
Vehicle Identification Number (VIN)
This legal identifier is in the front corner of the instrument panel, on the left side of the vehicle. It can be seen through the windshield from outside. The VIN also appears on the Vehicle C ...
Traction Control System (TCS)
The vehicle has a Traction Control System (TCS) that limits wheel slip. The system operates if it senses that one or both of the front wheels are slipping or beginning to lose traction. When ...