Steering Wheel Adjustment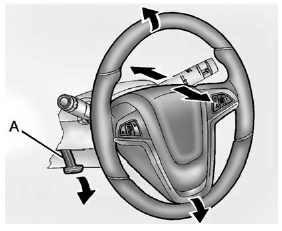 To adjust the steering wheel:
1. Pull the lever (A) down.
2. Move the steering wheel up or down.
3. Pull or push the steering wheel closer or away from you.
4. Lift the lever (A) up to lock the steering wheel in place.
Do not adjust the steering wheel while driving.
See also:
When It Is Time for New Tires
Factors such as maintenance, temperatures, driving speeds, vehicle loading, and road conditions affect the wear rate of the tires. Treadwear indicators are one way to tell when it is time for new ...
Canadian Vehicle Owners
Propriétaires Canadiens ► French language copy of this manual can be obtained from your dealer or from: On peut obtenir un exemplaire de ce guide en français auprès du c ...
Accessories and Modifications
When non-dealer/non-retailer accessories are added to the vehicle, they can affect vehicle performance and safety, including such things as airbags, braking, stability, ride and handling, emissi ...