Why Safety Belts Work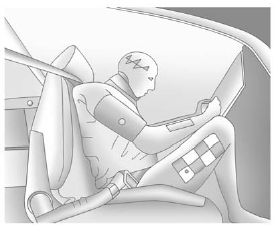 When riding in a vehicle, you travel as fast as the vehicle does. If the vehicle stops suddenly, you keep going until something stops you. It could be the windshield, the instrument panel, or the safety belts!
When you wear a safety belt, you and the vehicle slow down together. There is more time to stop because you stop over a longer distance and, when worn properly, your strongest bones take the forces from the safety belts. That is why wearing safety belts makes such good sense.
See also:
Performance
The Regal I tested packs the base engine — a 2.4-liter four-cylinder that's good for 182 horsepower. There's no way around it: This is a sedate engine. You probably won't notice that it lacks po ...
Tire Pressure Monitor Operation
This vehicle may have a Tire Pressure Monitor System (TPMS). The TPMS is designed to warn the driver when a low tire pressure condition exists. TPMS sensors are mounted onto each tire and wheel assem ...
OnStar Steering Wheel Controls
This vehicle may have a Talk/Mute button that can be used to interact with OnStar Hands-Free calling. See Steering Wheel Controls for more information. On some vehicles, the Talk button can be ...