Sun Visors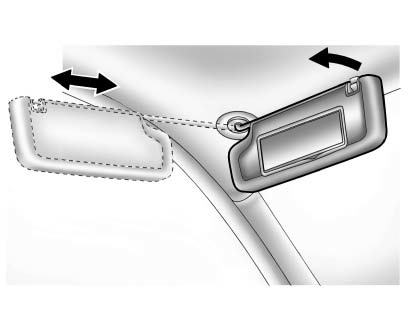 Pull the sun visor down to block glare. Detach the sun visor from the center mount to pivot to the side window, or to extend along the rod, if available.
See also:
OnStar Steering Wheel Controls
This vehicle may have a Talk/Mute button that can be used to interact with OnStar hands-free calling. See Audio Steering Wheel Controls for more information. On some vehicles, the mute button c ...
How to Add Automatic TransmissionFluid
Refer to the Maintenance Schedule to determine what kind of transmission fluid to use. Add fluid only after checking the transmission fluid while it is hot. A cold check is used only as a referenc ...
Vehicle Symbols
The vehicle has components and labels that use symbols instead of text. Symbols are shown along with the text describing the operation or information relating to a specific component, control, m ...