Windows

WARNING
Leaving children, helpless adults, or pets in a vehicle with the windows closed is dangerous.
They can be overcome by the extreme heat and suffer permanent injuries or even death from heat stroke. Never leave a child, a helpless adult, or a pet alone in a vehicle, especially with the windows closed in warm or hot weather.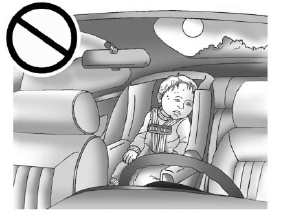 The vehicle aerodynamics are designed to improve fuel economy performance. This may result in a pulsing sound when either rear window is down and the front windows are up. To reduce the sound, open either a front window or the sunroof (if equipped).
See also:
Customer Assistance for Text Telephone (TTY) Users
To assist customers who are deaf, hard of hearing, or speech-impaired and who use Text Telephones (TTYs), Buick has TTY equipment available at its Customer Assistance Center. Any TTY user can communic ...
Adding Equipment to the Airbag-Equipped Vehicle
Q: Is there anything I might add to or change about the vehicle that could keep the airbags from working properly? A: Yes. If you add things that change the vehicle's frame, bumper system, height, fr ...
Outside Automatic Dimming Mirror
If the vehicle has this feature, the driver side mirror adjusts for the glare of headlamps behind you. This feature is controlled by the on and off settings on the automatic dimming rearview mir ...