Storing a Flat or Spare Tire and Tools With a Screw in Fastener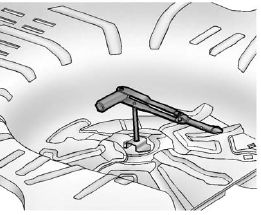 1. Turn the wrench counterclockwise to remove the fastener.
2. Replace the fastener with the one provided in the foam.
3. Turn the wrench clockwise to tighten the fastener.
4. Replace the foam, jack and tools, and the tire.
5. Turn the retainer nut clockwise to secure the tire.
6. Place the floor cover on the wheel.
See also:
Airbag Readiness Light
This light shows if there is an electrical problem. The system check includes the airbag sensor(s), passenger sensing system, the pretensioners, the airbag modules, the wiring, and the crash ...
Playing the Radio
For vehicles equipped with the MyLink or IntelliLink infotainment system, see the separate MyLink/IntelliLink Features and Functions Guide for more information. ...
Universal Remote System
The Universal Home Remote System allows for garage door openers, security systems, and home automation devices to be programmed to work with these buttons in the vehicle. See Universal Home R ...