Storing a Flat or Spare Tire and Tools With a Screw in Fastener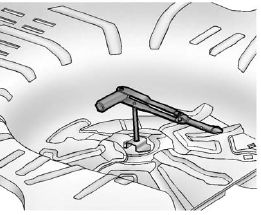 1. Turn the wrench counterclockwise to remove the fastener.
2. Replace the fastener with the one provided in the foam.
3. Turn the wrench clockwise to tighten the fastener.
4. Replace the foam, jack and tools, and the tire.
5. Turn the retainer nut clockwise to secure the tire.
6. Place the floor cover on the wheel.
See also:
How to Check
Use a good quality pocket-type gauge to check tire pressure. Proper tire inflation cannot be determined by looking at the tire. Check the tire inflation pressure when the tires are cold, meaning t ...
Battery
This vehicle has a standard 12-volt battery. Refer to the replacement number on the original battery label when a new standard 12-volt battery is needed. eAssist vehicles also have a high v ...
Wheels and Trim—Aluminum or Chrome
Use a soft, clean cloth with mild soap and water to clean the wheels. After rinsing thoroughly with clean water, dry with a soft, clean towel. A wax may then be applied. Keep the wheels clean using ...