Adding Washer Fluid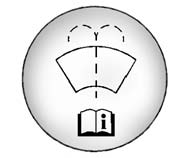 Open the cap with the washer symbol on it. Add washer fluid until the tank is full. See Engine Compartment Overview for reservoir location.
Notice
When using concentrated washer fluid, follow the manufacturer's instructions for adding water.
Do not mix water with ready-to-use washer fluid. Water can cause the solution to freeze and damage the washer fluid tank and other parts of the washer system. Also, water does not clean as well as washer fluid.
Fill the washer fluid tank only three-quarters full when it is very cold. This allows for fluid expansion if freezing occurs, which could damage the tank if it is completely full.
Do not use engine coolant (antifreeze) in the windshield washer. It can damage the windshield washer system and paint.
See also:
Parking Over Things That Burn
WARNING: Things that can burn could touch hot exhaust parts under the vehicle and ignite. Do not park over papers, leaves, dry grass, or other things that can burn. ...
Dual Automatic Climate Control System
The heating, cooling, and ventilation in the vehicle can be controlled with this system. A. Fan Control B. AUTO (Automatic Operation) C. Defrost D. Recirculation E. REAR (Rear Climate Control ...
Consistency of Readings
Always check the fluid level at least twice using the procedure described previously. Consistency (repeatable readings) is important to maintaining proper fluid level. If inconsistent readings per ...