Adding Washer Fluid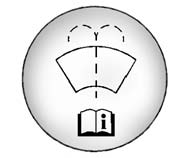 Open the cap with the washer symbol on it. Add washer fluid until the tank is full. See Engine Compartment Overview for reservoir location.
Notice
When using concentrated washer fluid, follow the manufacturer's instructions for adding water.
Do not mix water with ready-to-use washer fluid. Water can cause the solution to freeze and damage the washer fluid tank and other parts of the washer system. Also, water does not clean as well as washer fluid.
Fill the washer fluid tank only three-quarters full when it is very cold. This allows for fluid expansion if freezing occurs, which could damage the tank if it is completely full.
Do not use engine coolant (antifreeze) in the windshield washer. It can damage the windshield washer system and paint.
See also:
Adjusting the Treble, Midrange, and Bass
1. Press the TONE button. 2. Select Treble, Midrange, or Bass. 3. Select the value. Press the BACK button to go back to the Tone Settings menu. ...
Removal and Installation of the Sealant Canister
To remove the sealant canister: 1. Unwrap the sealant hose. 2. Press the canister release button. 3. Pull up and remove the canister. 4. Replace with a new canister which is available from you ...
Engine Oil Additives/Engine Oil Flushes
Do not add anything to the oil. The recommended oils with the dexos specification and displaying the dexos certification mark are all that is needed for good performance and engine protection. En ...