Adding Washer Fluid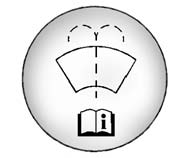 Open the cap with the washer symbol on it. Add washer fluid until the tank is full. See Engine Compartment Overview for reservoir location.
Notice
When using concentrated washer fluid, follow the manufacturer's instructions for adding water.
Do not mix water with ready-to-use washer fluid. Water can cause the solution to freeze and damage the washer fluid tank and other parts of the washer system. Also, water does not clean as well as washer fluid.
Fill the washer fluid tank only three-quarters full when it is very cold. This allows for fluid expansion if freezing occurs, which could damage the tank if it is completely full.
Do not use engine coolant (antifreeze) in the windshield washer. It can damage the windshield washer system and paint.
See also:
Servicing the Airbag-Equipped Vehicle
Airbags affect how the vehicle should be serviced. There are parts of the airbag system in several places around the vehicle. Your dealer and the service manual have information about servic ...
Automatic Crash Response
In a crash, built in sensors can automatically alert an OnStar advisor who is immediately connected to the vehicle to see if you need help. ...
License Plate Lamp
The license plate lamps for this vehicle are on the trunk lid. To replace one of these bulbs: 1. Open the trunk. See Trunk for more information. 2. Push the end on either of the lamp assembli ...