Steering Wheel Adjustment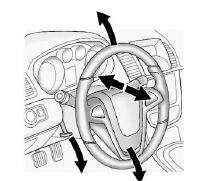 To adjust the steering wheel:
1. Pull the lever down.
2. Move the steering wheel up, down, forward, and backward.
3. Pull the lever up to lock the steering wheel in place.
Do not adjust the steering wheel while driving.
See also:
License Plate Lamp
To replace one of these bulbs, do the following: 1. Remove the two screws holding the license plate lamp lens. 2. Pull the lens away from the lamp assembly. 3. Pull the old bulb from the bulb ...
Starter Switch Check
WARNING When you are doing this inspection, the vehicle could move suddenly. If the vehicle moves, you or others could be injured. 1. Before starting this check, be sure there is enough room aro ...
Wheels and Trim—Aluminum or Chrome
The vehicle may have either aluminum or chrome-plated wheels. Keep the wheels clean using a soft, clean cloth with mild soap and water. Rinse with clean water. After rinsing thoroughly, dry with a so ...