Cooling System
The cooling system allows the engine to maintain the correct working temperature.
When it is safe to lift the hood:
2.4L L4 Engine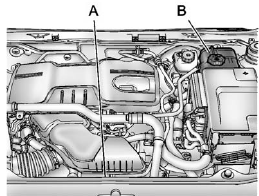 2.4L L4 Engine
A. Engine Cooling Fans (Out of View)
B. Coolant Surge Tank and Pressure Cap
3.6L V6 Engine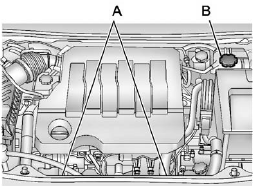 3.6L V6 Engine
A. Engine Cooling Fans (Out of View)
B. Coolant Surge Tank and Pressure Cap
WARNING!
An electric engine cooling fan under the hood can start up even when the engine is not running and can cause injury. Keep hands, clothing, and tools away from any underhood electric fan.
WARNING!
Heater and radiator hoses, and other engine parts, can be very hot. Do not touch them. If you do, you can be burned.
Do not run the engine if there is a leak. If you run the engine, it could lose all coolant. That could cause an engine fire, and you could be burned. Get any leak fixed before you drive the vehicle.
Notice:
Using coolant other than DEX-COOLВ® can cause premature engine, heater core, or radiator corrosion. In addition, the engine coolant could require changing sooner. Any repairs would not be covered by the vehicle warranty.
Always use DEX-COOL (silicate-free) coolant in the vehicle.
See also:
Odometer
The odometer shows how far the vehicle has been driven, in either kilometers or miles. This vehicle has a tamper-resistant odometer. The digital odometer will read 999,999 if it is turned back. ...
Tire and Loading Information Label
A vehicle-specific Tire and Loading Information label is attached to the vehicle's center pillar (B-pillar). With the driver door open, you will find the label attached below the door lock post. T ...
Overheated Engine Protection Operating Mode
If an overheated engine condition exists and the message ENGINE OVERHEATED STOP ENGINE is displayed, an overheat protection mode which alternates firing groups of cylinders helps prevent engine ...