Cooling System
The cooling system allows the engine to maintain the correct working temperature.
When it is safe to lift the hood:
2.4L L4 Engine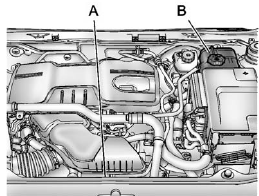 2.4L L4 Engine
A. Engine Cooling Fans (Out of View)
B. Coolant Surge Tank and Pressure Cap
3.6L V6 Engine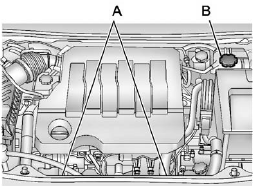 3.6L V6 Engine
A. Engine Cooling Fans (Out of View)
B. Coolant Surge Tank and Pressure Cap
WARNING!
An electric engine cooling fan under the hood can start up even when the engine is not running and can cause injury. Keep hands, clothing, and tools away from any underhood electric fan.
WARNING!
Heater and radiator hoses, and other engine parts, can be very hot. Do not touch them. If you do, you can be burned.
Do not run the engine if there is a leak. If you run the engine, it could lose all coolant. That could cause an engine fire, and you could be burned. Get any leak fixed before you drive the vehicle.
Notice:
Using coolant other than DEX-COOLВ® can cause premature engine, heater core, or radiator corrosion. In addition, the engine coolant could require changing sooner. Any repairs would not be covered by the vehicle warranty.
Always use DEX-COOL (silicate-free) coolant in the vehicle.
See also:
Key and Lock Messages
REPLACE BATTERY IN REMOTE KEY This message displays when the battery in the Remote Keyless Entry (RKE) transmitter needs to be replaced. ...
Driving for Better Fuel Economy
Driving habits can affect fuel mileage. Here are some driving tips to get the best fuel economy possible. ► Avoid fast starts and accelerate smoothly. ► Brake gradually and avoid abrupt ...
Securing a Child Restraint in a Rear Seat Position
When securing a child restraint in a rear seating position, study the instructions that came with the child restraint to make sure it is compatible with this vehicle. If the child restraint has t ...