Brake System Warning Light
The vehicle brake system consists of two hydraulic circuits. If one circuit is not working, the remaining circuit can still work to stop the vehicle. For normal braking performance, both circuits need to be working.
If the warning light comes on, there is a brake problem. Have the brake system inspected right away.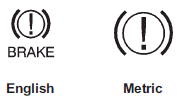 The Brake System Warning Light should come on briefly as the engine is started. If it does not come on, have the vehicle serviced by your dealer.

WARNING
The brake system might not be working properly if the brake system warning light is on.
Driving with the brake system warning light on can lead to a crash. If the light is still on after the vehicle has been pulled off the road and carefully stopped, have the vehicle towed for service.
If the light comes on while driving, a chime sounds. Pull off the road and stop. The pedal might be harder to push or go closer to the floor.
It might also take longer to stop.
If the light is still on, have the vehicle towed for service. See Towing the Vehicle .
See also:
Auto Door Unlock
This allows selection of which of the doors will automatically unlock when the vehicle is shifted into P (Park). Press SELECT when Auto Door Unlock is highlighted. Turn the Menu knob to selec ...
Manual Seats
Manual Seats A. Seatback Recline Lever B. Height Adjustment Switch C. Seat Position Handle To adjust the seat position: 1. Pull the handle (C) under the front of the seat cushion. 2. Slide t ...
Adding Equipment to the Outside of the Vehicle
Things added to the outside of the vehicle can affect the airflow around it. This can cause wind noise and can affect fuel economy and windshield washer performance. Check with your dealer/retail ...