Brake System Warning Light
The vehicle brake system consists of two hydraulic circuits. If one circuit is not working, the remaining circuit can still work to stop the vehicle. For normal braking performance, both circuits need to be working.
If the warning light comes on, there is a brake problem. Have the brake system inspected right away.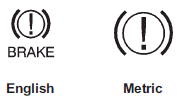 The Brake System Warning Light should come on briefly as the engine is started. If it does not come on, have the vehicle serviced by your dealer.

WARNING
The brake system might not be working properly if the brake system warning light is on.
Driving with the brake system warning light on can lead to a crash. If the light is still on after the vehicle has been pulled off the road and carefully stopped, have the vehicle towed for service.
If the light comes on while driving, a chime sounds. Pull off the road and stop. The pedal might be harder to push or go closer to the floor.
It might also take longer to stop.
If the light is still on, have the vehicle towed for service. See Towing the Vehicle .
See also:
Passing
More passing distance is needed when towing a trailer. Because the rig is longer, it is necessary to go much farther beyond the passed vehicle before returning to the lane. ...
Driving with a Trailer
CAUTION: If you have a rear-most window open and you pull a trailer with your vehicle, carbon monoxide (CO) could come into your vehicle. You cannot see or smell CO. It can cause unconsciousn ...
Headlamps, Front Turn Signal, andParking Lamps
To replace a bulb, do the following: 1. Open the hood. 2. Remove the grille by grasping and pulling it forward. 3. Lift the two headlamp retaining clips. 4. Pull the headlamp assembly away from ...