Brake System Warning Light
The vehicle brake system consists of two hydraulic circuits. If one circuit is not working, the remaining circuit can still work to stop the vehicle. For normal braking performance, both circuits need to be working.
If the warning light comes on, there is a brake problem. Have the brake system inspected right away.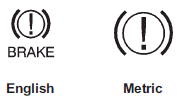 The Brake System Warning Light should come on briefly as the engine is started. If it does not come on, have the vehicle serviced by your dealer.

WARNING
The brake system might not be working properly if the brake system warning light is on.
Driving with the brake system warning light on can lead to a crash. If the light is still on after the vehicle has been pulled off the road and carefully stopped, have the vehicle towed for service.
If the light comes on while driving, a chime sounds. Pull off the road and stop. The pedal might be harder to push or go closer to the floor.
It might also take longer to stop.
If the light is still on, have the vehicle towed for service. See Towing the Vehicle .
See also:
Temperature – A, B, C
The temperature grades are A (the highest), B, and C, representing the tire's resistance to the generation of heat and its ability to dissipate heat when tested under controlled conditions on ...
Dual Tone Multi-Frequency (DTMF) Tones
The Bluetooth system can send numbers and the numbers stored as name tags during a call. You can use this feature when calling a menu-driven phone system. Account numbers can also be stored for us ...
License Plate Lamp
To replace one of these bulbs: Passenger Side Shown, Driver Side Similar 1. Push the release tab (A) toward the lamp assembly. 2. Pull the lamp assembly down to remove. A. Bulb Socket B. B ...