Weight of the Trailer Tongue
The tongue load (A) of any trailer is an important weight to measure because it affects the total gross weight of the vehicle. The Gross Vehicle Weight (GVW) includes the curb weight of the vehicle, any cargo carried in it, and the people who will be riding in the vehicle.
If there are a lot of options, equipment, passengers, or cargo in the vehicle, it will reduce the tongue weight the vehicle can carry, which will also reduce the trailer weight the vehicle can tow. If towing a trailer, the tongue load must be added to the GVW because the vehicle will be carrying that weight, too. See Vehicle Load Limits for more information.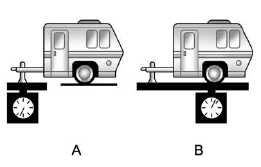 The trailer tongue (A) should weigh 10 to 15 percent of the total loaded trailer weight (B).
After loading the trailer, weigh the trailer and then the tongue, separately, to see if the weights are proper. If they are not, adjustments might be made by moving some items around in the trailer.
See also:
Tire Terminology and Definitions
Air Pressure: The amount of air inside the tire pressing outward on each square inch of the tire. Air pressure is expressed in pounds per square inch (psi) or kilopascal (kPa). Accessory Weight: ...
Infotainment System Menus
Tone Settings To access the tone settings, press the Home Page Tone button or the TONE button on the faceplate. Use the tone settings to adjust the following features: • Setting the tone в ...
Different Size Tires and Wheels
If you add wheels or tires that are a different size than your original equipment wheels and tires, this may affect the way your vehicle performs, including its braking, ride and handling characte ...