Weight of the Trailer Tongue
The tongue load (A) of any trailer is an important weight to measure because it affects the total gross weight of the vehicle. The Gross Vehicle Weight (GVW) includes the curb weight of the vehicle, any cargo carried in it, and the people who will be riding in the vehicle.
If there are a lot of options, equipment, passengers, or cargo in the vehicle, it will reduce the tongue weight the vehicle can carry, which will also reduce the trailer weight the vehicle can tow. If towing a trailer, the tongue load must be added to the GVW because the vehicle will be carrying that weight, too. See Vehicle Load Limits for more information.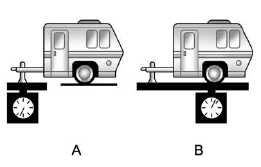 The trailer tongue (A) should weigh 10 to 15 percent of the total loaded trailer weight (B).
After loading the trailer, weigh the trailer and then the tongue, separately, to see if the weights are proper. If they are not, adjustments might be made by moving some items around in the trailer.
See also:
Fabric/Carpet
Use a vacuum cleaner with a soft brush attachment frequently to remove dust and loose dirt. A canister vacuum with a beater bar in the nozzle may only be used on floor carpet and carpeted floor ...
Glove Box
Lift up the handle to open the glove box. It contains a pen holder and a coin holder. ...
Locking Rear Axle
Your vehicle may have this feature. A locking rear axle can give you additional traction on snow, mud, ice, sand or gravel. It works like a standard axle most of the time, but when one of the rear ...