Weight of the Trailer Tongue
The tongue load (A) of any trailer is an important weight to measure because it affects the total gross weight of the vehicle. The Gross Vehicle Weight (GVW) includes the curb weight of the vehicle, any cargo carried in it, and the people who will be riding in the vehicle.
If there are a lot of options, equipment, passengers, or cargo in the vehicle, it will reduce the tongue weight the vehicle can carry, which will also reduce the trailer weight the vehicle can tow. If towing a trailer, the tongue load must be added to the GVW because the vehicle will be carrying that weight, too. See Vehicle Load Limits for more information.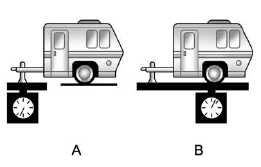 The trailer tongue (A) should weigh 10 to 15 percent of the total loaded trailer weight (B).
After loading the trailer, weigh the trailer and then the tongue, separately, to see if the weights are proper. If they are not, adjustments might be made by moving some items around in the trailer.
See also:
Shocks and Struts
Shocks and struts help aid in control for a smoother ride. • Signs of wear may include steering wheel vibration, bounce/sway while braking, longer stopping distance, or uneven tire wear. в ...
Adjusting the Speakers (Balance/Fade)
AUDIO: To adjust the balance between the right and the left speakers, push and release the AUDIO knob until BAL (balance) displays. Turn the knob to move the sound toward the right or the left s ...
Services Not Included in Roadside Assistance
• Impound towing caused by violation of any laws. • Legal fines. • Mounting, dismounting or changing of snow tires, chains, or other traction devices. • Towing or services for vehicles dr ...