Rear Seat Driver Side Shown, Passenger Side Similar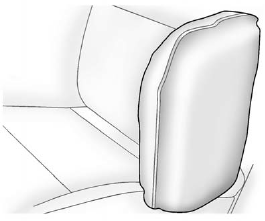 On vehicles with second row seat-mounted side impact airbags, they are in the sides of the rear seatback closest to the door.

WARNING
If something is between an occupant and an airbag, the airbag might not inflate properly or it might force the object into that person causing severe injury or even death. The path of an inflating airbag must be kept clear. Do not put anything between an occupant and an airbag, and do not attach or put anything on the steering wheel hub or on or near any other airbag covering.
Do not use seat accessories that block the inflation path of a seat-mounted side impact airbag.
Never secure anything to the roof of a vehicle with roof-rail airbags by routing a rope or tie-down through any door or window opening. If you do, the path of an inflating roof-rail airbag will be blocked.
See also:
GM Mobility Reimbursement Program
This program is available to qualified applicants for cost reimbursement of eligible aftermarket adaptive equipment required for the vehicle, such as hand controls or a wheelchair/ scooter lift for ...
Starter Switch Check
WARNING When you are doing this inspection, the vehicle could move suddenly. If the vehicle moves, you or others could be injured. 1. Before starting this check, be sure there is enough room aroun ...
Weight of the Trailer
How heavy can a trailer safely be? It should never weigh more than 454 kg (1,000 lbs). But even that can be too heavy. It depends on how the rig is used. For example, speed, altitude, road grades, ...