Lower Anchor and Top Tether Anchor Locations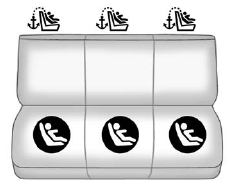 Rear Seat

(Top Tether Anchor): Seating positions with top tether anchors.

(Lower Anchor): Seating positions with two lower anchors.
To assist in locating the lower anchors, each rear anchor position has a label, near the crease between the seatback and the seat cushion.

To assist in locating the top tether anchors, the top tether anchor symbol is on the cover.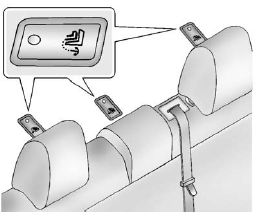 The top tether anchors are under the covers, behind the rear seat, on the filler panel. Be sure to use an anchor on the same side of the vehicle as the seating position where the child restraint will be placed.
Do not secure a child restraint in a position without a top tether anchor if a national or local law requires that the top tether be attached, or if the instructions that come with the child restraint say that the top tether must be attached.
According to accident statistics, children and infants are safer when properly restrained in a child restraint system or infant restraint system secured in a rear seating position. See Where to Put the Restraint for additional information.
See also:
Customer Assistance for Text Telephone (TTY) Users
To assist customers who are deaf, hard of hearing, or speech-impaired and who use Text Telephones (TTYs), Buick has TTY equipment available at its Customer Assistance Center. Any TTY user can co ...
Hitches
Use the correct hitch equipment. See your dealer or a hitch dealer for assistance. . The rear bumper on the vehicle is not intended for hitches. Do not attach rental hitches or other bumper-type hi ...
How to Wear Safety Belts Properly
This section is only for people of adult size. Be aware that there are special things to know about safety belts and children. And there are different rules for smaller children and infants. If a chi ...