Off-Road Recovery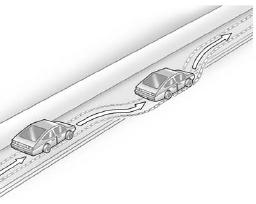 The vehicle's right wheels can drop off the edge of a road onto the shoulder while driving. Follow these tips:
1. Ease off the accelerator and then, if there is nothing in the way, steer the vehicle so that it straddles the edge of the pavement.
2. Turn the steering wheel about one-eighth of a turn, until the right front tire contacts the pavement edge.
3. Then turn the steering wheel to go straight down the roadway.
See also:
Park Brake and P (Park) Mechanism Check
WARNING When you are doing this check, the vehicle could begin to move. You or others could be injured and property could be damaged. Make sure there is room in front of the vehicle in case it ...
Towing the Vehicle
Notice: To avoid damage, the disabled vehicle should be towed with all four wheels off the ground. Care must be taken with vehicles that have low ground clearance and/or special equipment ...
Service Publications Ordering Information
Service Manuals Service Manuals have the diagnosis and repair information on the engines, transmission, axle, suspension, brakes, electrical, steering, body, etc Service Bulletins Service Bulletins ...