Off-Road Recovery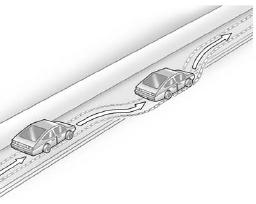 The vehicle's right wheels can drop off the edge of a road onto the shoulder while driving. Follow these tips:
1. Ease off the accelerator and then, if there is nothing in the way, steer the vehicle so that it straddles the edge of the pavement.
2. Turn the steering wheel about one-eighth of a turn, until the right front tire contacts the pavement edge.
3. Then turn the steering wheel to go straight down the roadway.
See also:
Adding Equipment to the Outsideof Your Vehicle
Things you might add to the outside of your vehicle can affect the airflow around it. This may cause wind noise and affect windshield washer performance. Check with your dealer before adding equip ...
Looks
Enticing younger buyers into Buick showrooms is job No. 1. While the Enclave crossover and the recently redesigned LaCrosse have chipped away at the average age of Buick owners — it's down from ...
Service Parts Identification Label
This label, located either in the glove box or the trunk area, has the following information: Vehicle Identification Number (VIN). Model designation. Paint information. Production options ...