Brake System Warning Light
The vehicle brake system consists of two hydraulic circuits. If one circuit is not working, the remaining circuit can still work to stop the vehicle. For normal braking performance, both circuits need to be working.
If the warning light comes on, there is a brake problem. Have your brake system inspected right away.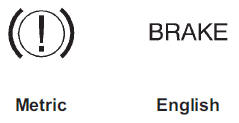 If the vehicle has antilock brakes, this light should come on when the vehicle is placed in START. If it does not, have the vehicle serviced by your dealer.
If the light comes on while driving, pull off the road and stop carefully.
The pedal may be harder to push or it can go closer to the floor. It may take longer to stop. Try turning off and restarting the vehicle one or two times. If the light is still on, have the vehicle towed for service. See Antilock Brake System (ABS) Warning Light and Towing the Vehicle.
WARNING!
The brake system might not be working properly if the brake system warning light is on.
Driving with the brake system warning light on can lead to a crash. If the light is still on after the vehicle has been pulled off the road and carefully stopped, have the vehicle towed for service.
See also:
Voice Pass-Thru
Voice pass-thru allows access to the voice recognition commands on the cell phone. See the cell phone manufacturer's user guide to see if the cell phone supports this feature. To access contacts stor ...
Control of a Vehicle
Braking, steering, and accelerating are important factors in helping to control a vehicle while driving. ...
Recalling RKE Memory Positions (Memory Remote Recall)
The Memory Remote Recall feature can recall the driver seat and outside mirrors to previously stored RKE Memory positions when entering the vehicle. Every time the ignition is placed in OFF ...