Rear Safety Belt Comfort Guides
This vehicle may have rear shoulder belt comfort guides. If not, they are available through your dealer. The guides may provide added safety belt comfort for older children who have outgrown booster seats and for some adults. When installed and properly adjusted, the comfort guide positions the belt away from the neck and head.
There is one guide for each outside passenger position in the rear seat.
Here is how to install a comfort guide to the safety belt: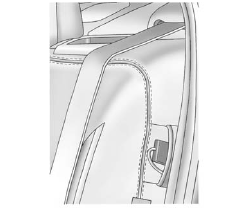 1. Remove the guide from its storage pocket on the side of the seat.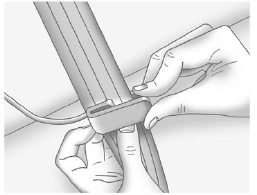 2. Place the guide over the belt, and insert the two edges of the belt into the slots of the guide.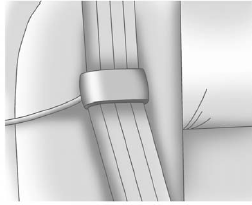 3. Be sure that the belt is not twisted and it lies flat. The elastic cord must be under the belt and the guide on top.
WARNING!
A safety belt that is not properly worn may not provide the protection needed in a crash. The person wearing the belt could be seriously injured. The shoulder belt should go over the shoulder and across the chest. These parts of the body are best able to take belt restraining forces.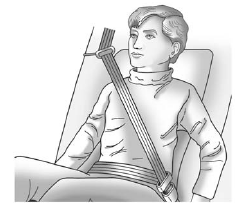 4. Buckle, position, and release the safety belt as described previously in this section. Make sure the shoulder portion of the belt is on the shoulder and not falling off of it. The belt should be close to, but not contacting, the neck.
See also:
Rolling Ding Factory
I noticed another anomaly that didn't stand out in previous tests: a flawed interior handle design. Doors usually have an unlatch handle and a separate grab handle nearby for closing the door. The ...
All-Wheel Drive
When to Check Lubricant It is not necessary to regularly check fluid unless you suspect there is a leak or you hear an unusual noise. A fluid loss could indicate a problem. Have it inspected and r ...
Child Restraint Systems
A rear-facing infant seat (A) provides restraint with the seating surface against the back of the infant. The harness system holds the infant in place and, in a crash, acts to keep the in ...