Starting the Vehicle with a Low Transmitter Battery
If the transmitter battery is weak, the DIC may display NO REMOTE DETECTED when you try to start the vehicle. The REPLACE BATTERY IN REMOTE KEY message may also be displayed at this time.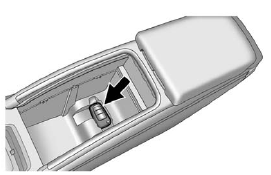 To start the vehicle:
1. Remove the cupholder from the center console storage area.
2. Place the transmitter in the transmitter pocket with the buttons facing up.
3. With the vehicle in P (Park) or N (Neutral), press the brake pedal and the START/STOP button. See Starting the Engine for additional information about the vehicle's keyless ignition with pushbutton start.
Replace the transmitter battery as soon as possible.
See also:
Managing the Vehicle DamageRepair Process
In the event that your vehicle requires damage repairs, GM recommends that you take an active role in its repair. If you have a pre-determined repair facility of choice, take your vehicle there, or ...
How to Wear Safety Belts Properly
This part is only for people of adult size. Be aware that there are special things to know about safety belts and children. And there are different rules for smaller children and babies. If a ...
Manual Operation
(Fan Control): Press the lower button to decrease the fan speed. Pressing the lower button longer turns the fan and cooling off. Press the upper button to increase the fan speed. The selected ...