Cruise Control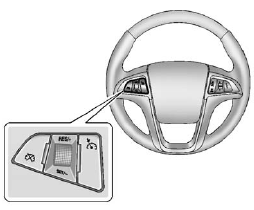 Cruise Control

: Press to turn the cruise control system on and off.

: Press to disengage cruise control without erasing the set speed from memory.
RES/+: Move the thumbwheel up to make the vehicle resume to a previously set speed or to accelerate.
SET/− : Move the thumbwheel down toward SET/- to set a speed and activate cruise control, or to make the vehicle decelerate.
See Cruise Control.
See also:
Battery Power Protection
The battery saver feature is designed to protect the vehicle's battery. If some interior lamps are left on and the ignition is turned off, the battery rundown protection system automatically tu ...
Steering in Emergencies
• There are some situations when steering around a problem may be more effective than braking. • Holding both sides of the steering wheel allows you to turn 180 degrees without removing ...
Braking in Emergencies
ABS allows the driver to steer and brake at the same time. In many emergencies, steering can help more than even the very best braking. ...