Off-Road Recovery
The vehicle's right wheels can drop off the edge of a road onto the shoulder while driving.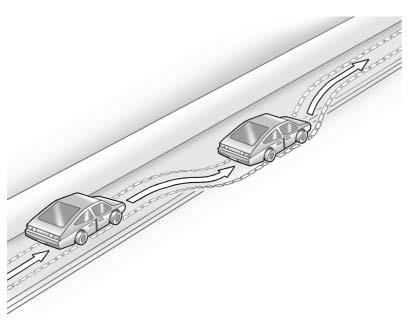 If the level of the shoulder is only slightly below the pavement, recovery should be fairly easy.
Ease off the accelerator and then, if there is nothing in the way, steer so that the vehicle straddles the edge of the pavement. Turn the steering wheel 8 to 13 cm (3 to 5 in), about one-eighth turn, until the right front tire contacts the pavement edge. Then turn the steering wheel to go straight down the roadway.
See also:
Backing Up
Hold the bottom of the steering wheel with one hand. Then, to move the trailer to the left, move that hand to the left. To move the trailer to the right, move your hand to the right. Always back ...
Active Fuel Management™
Your vehicle's V8 engine may have Active Fuel Management™. This system allows the engine to operate on either all or half of its cylinders, depending on your driving conditions. When less po ...
Entering the Personalization Menus
1. Press CONFIG to access the Configuration Settings menu. 2. Turn the TUNE/MENU knob to highlight Vehicle Settings. Press the CONFIG button until Vehicle is highlighted on vehicles with a navigati ...