Cooling System
The cooling system allows the engine to maintain the correct working temperature.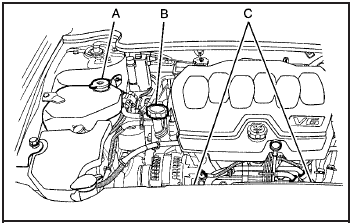 3.9L Engine
A. Coolant Recovery Tank
B. Radiator Pressure Cap
C. Electric Engine Cooling Fans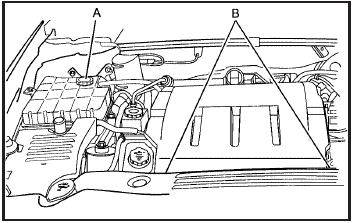 4.6L Engine
A. Coolant Surge Tank with Pressure Cap
B. Electric Engine Cooling Fans
WARNING:
An electric engine cooling fan under the hood can start up even when the engine is not running and can cause injury. Keep hands, clothing, and tools away from any underhood electric fan.
WARNING:
Heater and radiator hoses, and other engine parts, can be very hot. Do not touch them. If you do, you can be burned.
Do not run the engine if there is a leak. If you run the engine, it could lose all coolant. That could cause an engine fire, and you could be burned.
Get any leak fixed before you drive the vehicle.
Notice: Using coolant other than DEX-COOL® can cause premature engine, heater core, or radiator corrosion. In addition, the engine coolant could require changing sooner, at 50 000 km (30,000 miles) or 24 months, whichever occurs first. Any repairs would not be covered by the vehicle warranty.
Always use DEX-COOL® (silicate-free) coolant in the vehicle.
See also:
Automatic Transmission Shift Lock Control Function Check
WARNING! When you are doing this inspection, the vehicle could move suddenly. If the vehicle moves, you or others could be injured. 1. Before starting this check, be sure there is enough r ...
Playing an MP3 CD or DVD
Files that are not stored in folders are displayed in the root directory (disc). The search rate increases if the Menu knob is continuously turned while searching in a list. Selecting an MP3 ...
Battery Run-Down Protection
This feature helps prevent the battery from being drained, if the interior courtesy lamps, reading/map lamps, visor vanity lamps or trunk lamp are accidentally left on. If any of these lamps are ...