Tire Pressure Light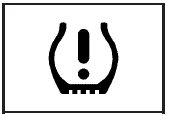 For vehicles with a tire pressure monitoring system, this light comes on briefly when the engine is started. It provides information about tire pressures and the Tire Pressure Monitoring System.
When the Light is On Steady
This indicates that one or more of the tires are significantly underinflated.
A tire pressure message in the Driver Information Center (DIC), can accompany the light. See Driver Information Center (DIC) for more information.
Stop and check the tires as soon as it is safe to do so.
If underinflated, inflate to the proper pressure. See Inflation - Tire Pressure for more information.
When the Light Flashes First and Then is On Steady
This indicates that there may be a problem with the Tire Pressure Monitor System. The light flashes for about a minute and stays on steady for the remainder of the ignition cycle. This sequence repeats with every ignition cycle. See Tire Pressure Monitor Operation for more information.
See also:
DIC Vehicle Customization
Your vehicle may have customization capabilities that allow you to program some features to one setting based on your preference. All of the customizable options listed may not be available on you ...
Using Cruise Control on Hills
How well the cruise control works on hills depends upon the vehicle's speed, load, and the steepness of the hills. When going up steep hills, you might have to step on the accelerator pedal ...
Home Page
The infotainment system displays a home page that makes accessing many of the features an easy process. Back: If on page two of the Home Page, press Back to return to page one of the Home P ...