Passenger Safety Belt Reminder Light
Several seconds after the engine is started, a chime sounds for several seconds to remind the front passenger to buckle their safety belt. The passenger safety belt light, located on the instrument panel, comes on and stays on for several seconds and then flashes for several more.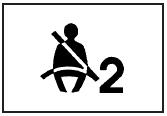 This chime and light are repeated if the passenger remains unbuckled and the vehicle is in motion.
If the passenger safety belt is buckled, neither the chime nor the light comes on.
The front passenger safety belt warning light and chime may turn on if an object is put on the seat such as a briefcase, handbag, grocery bag, laptop or other electronic device. To turn off the warning light and or chime, remove the object from the seat or buckle the safety belt.
See also:
Lock Feedback
Press the customization button until LOCK FEEDBACK: BOTH appears in the display. To select your preference for the feedback you receive when locking the vehicle with the Remote Keyless Entry (RK ...
3.6L V6 Engine
3.6L V6 Engine 1. Remove the screws on top of the engine air cleaner/filter housing. 2. Lift the filter cover housing away from the engine. 3. Pull out the filter. 4. Inspect or replace th ...
Airbag System Check
The airbag system does not need regularly scheduled maintenance or replacement. Make sure the airbag readiness light is working. See Airbag Readiness Light for more information. Notice: If ...