Passenger Compartment Air Filter
Outside air is routed through a passenger compartment air filter before entering the vehicle. This filter removes certain particles from the air, including pollen and dust particles. The filter should be replaced as part of routine scheduled maintenance. See Scheduled Maintenance for when to replace the filter.
The access panel for the passenger compartment air filter is located under the hood near the windshield, on the passenger's side of the vehicle.
To access the passenger compartment air filter, do the following:
1. Press the tabs back and left to remove the cover.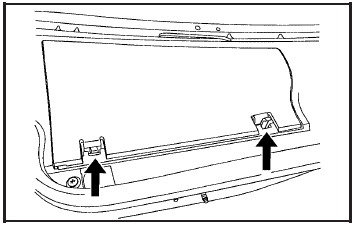 2. Insert a tool behind the push pin located on the inboard side of the air filter compartment to carefully pry the pin out.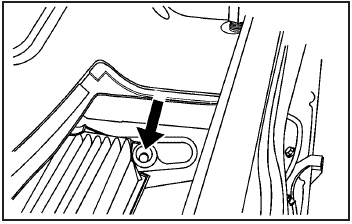 3. To remove the air filter, insert a tool between the air filter and the compartment wall on the outboard side of the vehicle. Then, push in to flatten the pin holding the air filter in place. Gently remove the air filter and any loose debris that may be inside the air filter compartment.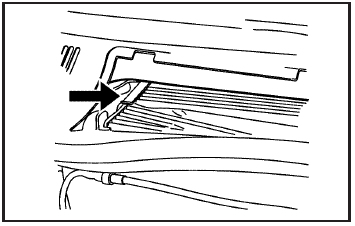 4. Insert the new air filter by pushing until you hear a click. Reinstall the push pin and snap the cover into place.
See also:
Checking Engine Oil
It is a good idea to check the engine oil level at each fuel fill. In order to get an accurate reading, the oil must be warm and the vehicle must be on level ground. The engine oil dipstick handle is ...
Power Windows
WARNING: Leaving children in a vehicle with the keys is dangerous for many reasons, children or others could be badly injured or even killed. They could operate the power windows or other contr ...
Perimeter Lights
Press the customization button until PERIMETER LIGHTS: ON appears in the display. To select your preference for perimeter lighting, press the select button while PERIMETER LIGHTS: ON is displaye ...