Safety Belt Use During Pregnancy
Safety belts work for everyone, including pregnant women. Like all occupants, they are more likely to be seriously injured if they do not wear safety belts.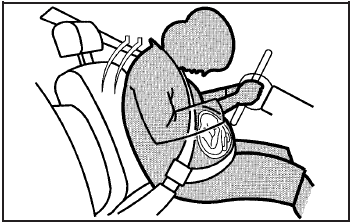 A pregnant woman should wear a lap-shoulder belt, and the lap portion should be worn as low as possible, below the rounding, throughout the pregnancy.
The best way to protect the fetus is to protect the mother. When a safety belt is worn properly, it is more likely that the fetus will not be hurt in a crash. For pregnant women, as for anyone, the key to making safety belts effective is wearing them properly.
See also:
DIC Operation and Displays
The DIC comes on when the ignition is on. After a short delay the DIC will display the information that was last displayed before the engine was turned off. If a problem is detected, a warning m ...
Engine Heater
The engine coolant heater, if available, can help in cold weather conditions at or below −18°C (0°F) for easier starting and better fuel economy during engine warm-up. Plug in the coo ...
Windshield Washer Fluid
What to Use When you need windshield washer fluid, be sure to read the manufacturer's instructions before use. If you will be operating your vehicle in an area where the temperature may fall bel ...