Heated Seats
Your vehicle may have heated front seats. To operate the heated seats, the ignition must be on.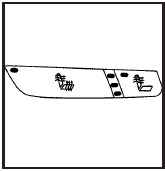 Driver's Side Buttons shown
The buttons are located on the front doors.

(Heated Seat Cushion and Seatback): Press this button to turn on the heated seat cushion and seatback.

(Heated Seatback): Press this button to turn on the heated seatback.
When either button is pressed, an indicator light on that button shows that the feature is on.
There are three temperature settings for each feature.
A column of three lights next to the buttons will display which setting the feature is in: high, medium or low.
Three lights indicate the highest setting, two lights indicate medium and one light indicates the lowest setting.
When you press a button, the feature will turn on at the highest setting. Each time you press the button, the feature will decrease one temperature setting.
To turn the feature off, keep pressing the button until the display lights turn off.
If your vehicle has remote vehicle start and is started using the RKE transmitter, the front heated seats will be turned on to the high setting if it is cold outside. See "Remote Vehicle Start" under Remote Keyless Entry (RKE) System Operation. When the key is inserted into the ignition and the ignition is turned on, the heated seat feature will turn off. To turn the heated seat feature back on, press the desired button.
See also:
Engine Coolant Heater
The engine coolant heater can provide easier starting and better fuel economy during engine warm-up in cold weather conditions at or below 0°F (−18°C). Vehicles with an engine coolant he ...
Traction Control System (TCS) Warning Light
For vehicles with a Traction Control System (TCS) and StabiliTrak® warning light, this light comes on briefly when the engine is started. If it does not, have the vehicle serviced by you ...
Ejecting a Disc (DVD Player with Sunroof)
Press and hold the stop/eject button for more than two seconds on the DVD player faceplate to eject the disc. There is not an eject button on the remote control. If a disc is ejected from the pl ...