When It Is Time for New Tires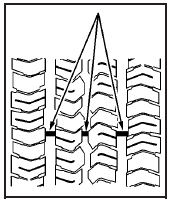 One way to tell when it is time for new tires is to check the treadwear indicators, which will appear when your tires have only 1/16 inch (1.6 mm) or less of tread remaining. Some commercial truck tires may not have treadwear indicators.
You need a new tire if any of the following statements are true:
• You can see the indicators at three or more places around the tire.
• You can see cord or fabric showing through the tire's rubber.
• The tread or sidewall is cracked, cut or snagged deep enough to show cord or fabric.
• The tire has a bump, bulge, or split.
• The tire has a puncture, cut, or other damage that cannot be repaired well because of the size or location of the damage.
See also:
Driving on Snow or Ice
Drive carefully when there is snow or ice between the tires and the road, creating less traction or grip. Wet ice can occur at about 0°C (32°F) when freezing rain begins to fall, resulting in even ...
XM™ Satellite Radio Service
XM™ is a satellite radio service that is based in the 48 contiguous United States and Canada. XM™ offers a large variety of coast-to-coast channels including music, news, sports, talk, traff ...
When the Change Engine Oil Soon Message Displays
Change engine oil and filter. See Engine Oil . An Emission Control Service. When the CHANGE ENGINE OIL SOON message displays, service is required for the vehicle as soon as possible, within the next ...